Patient Forms
Upon entering Correction Creek Chiropractic Center, our receptionists will welcome you as a member of our family. We will request that you complete our patient forms located in the New Patient Center. This paperwork provides us with your health history and information on your condition.
---
Examination
Our certified chiropractic technician, Dawn Laher, will perform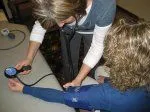 a complete chiropractic examination testing your reflexes and flexibility. Other standard neurological, orthopedic, postural, and physical tests will be performed as well. However, nothing will be done in our office without your consent.
---
X-Ray Studies
The next step is we will take X-rays. X-rays help us develop the most effective treatment plan for you, and alert us of any serious spinal conditions. Most people are amazed once they see their X-rays up close. In some cases, they can even identify their misalignments and degeneration themselves.
---